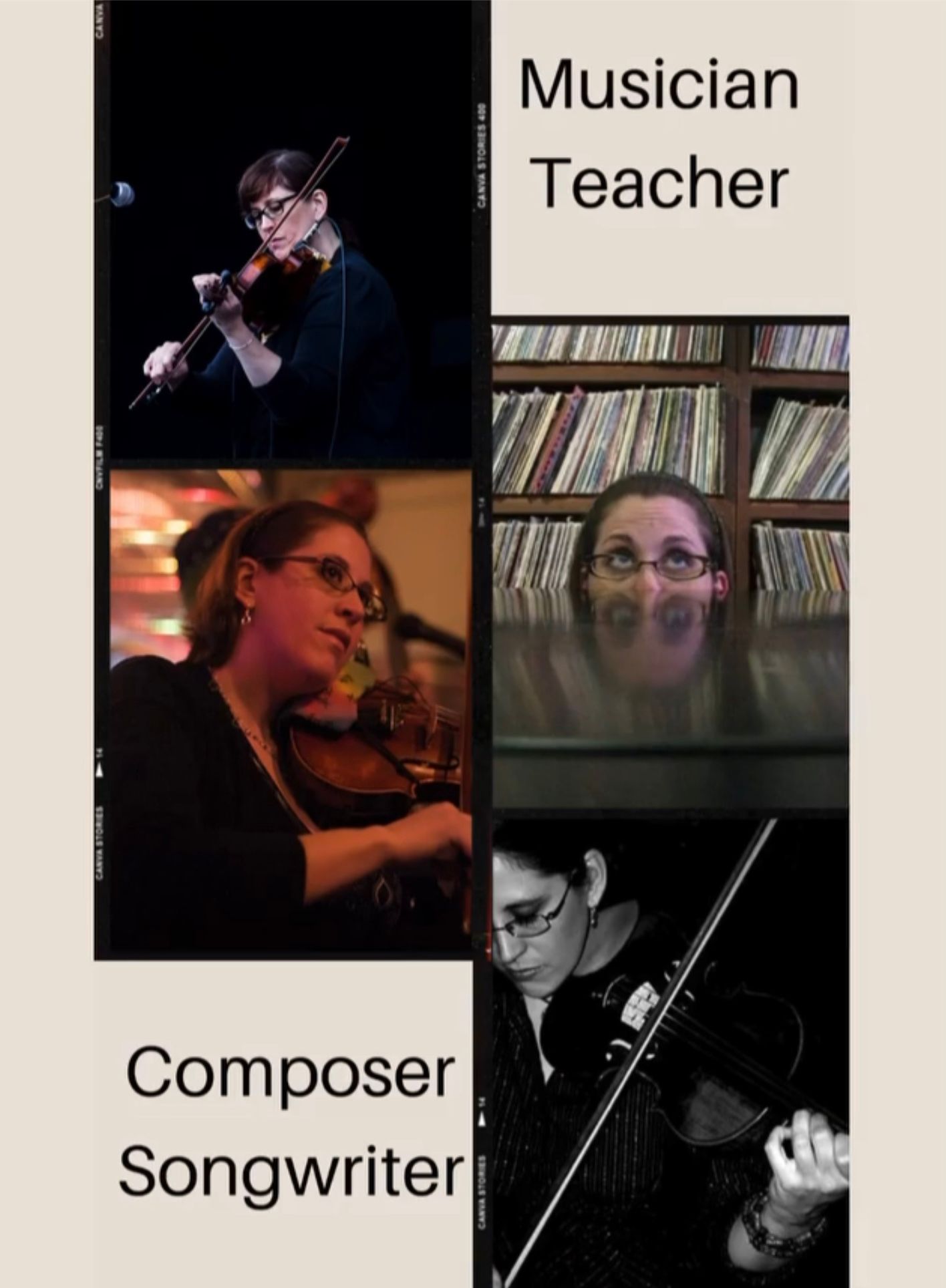 Musician:
Heather Lewin plays violin, viola, cello and sings.
Current Bands:
She's also a 
Feis musician
 (Irish dance competition), a Feis Music Competition Adjudicator, and she loves playing for Irish 
Ceili
 & 
Set Dancers
. (You may even find her out on the floor dancing a set or two).
Teacher:
Heather offers private lessons on violin, viola & cello in the Milwaukee area at Family Music Center and at Beglan Academy. She is also an instructor for the Milwaukee Irish Fest School of Music, and has taught workshops at venues around the country.
Composer:
Heather enjoys composing fiddle tunes, orchestral arrangements, and songs.  A few tunes have become quite popular locally and abroad.
 
Recording artist:
Experienced in-studio and remote recording session artist. See below for partial discography.
Heather attended UW-Stevens Point to study 
Music Education
, and later went on to earn degrees in 
Anthropology
, 
American Indian Studies
 & 
Celtic Studies 
from UW-Milwaukee. Heather began fiddling in 1998 after getting involved with folk dancing. She loves traveling to workshops and festivals to study the diverse fiddling styles of the United States, Ireland, and Eastern Europe. 
Past Performing Groups, Collaborations & Bands:
Classical:   
UW-Milwaukee Symphony Orchestra
Musical Theater:   
Former Bands & other collaborations:   
Slainte L'Chayim
The Liver Killers
Haulin' Goats
Derek Pritzl & the Gamble
Sawdust Symphony
Derek Byrne & Paddygrass
AWARDS:   
She was the Champion in the 2012 Midwest Fleadh Cheoil in Fiddle Slow Airs and competed in the 2012 All-Ireland Fleadh Cheoil na hÉireann in Cavan, Ireland.  
Heather was honored to be the 2007 recipient of the 
Ed Ward Irish Music Scholarship
, which she used to attend the Frankie Kennedy Winter School in Donegal.  
DISCOGRAPHY:   
Matt Carson - Always Believing (Unreleased)
Athas - A Waltz for Amy (2018)
The Liver Killers - World Famous (2016)
Athas - 10 for 10 (2015)
American Players Theater - Soundtrack 'Molly Sweeney' (2013 season)
Scott Lucas & the Married Men - Blood Half Moon (2012)
Reilly - Kick Ass Celtic Christmas (2008)
The Tank Commanders - New Years Sessions (2008)
The Tossers - Agony (2007)
The Tossers - Valley of the Shadow of Death (2005)
Athas - Athas (2007)
The Mighty Lumberhorn - Nothing Really Happened... (2008)
The Mighty Lumberhorn - American Standards (2007)
The Mighty Lumberhorn - LIVE at WMSE (2006)
The 'Merry' Lumberhorn - Xmas Xtravaganza (Live 2006)
The Consorte of Somesorte - Danse! (2004)
Bounding Main - Casting Off (2004
Bounding Main - Maiden Voyage (2003)
Tatra Slovak Dancers - Slovakia (2000)